Imagine in sitting soft sand, looking out at crystal clear water, filled with exotic fish, turtles, and coral. What more can you ask for? You can get all of this within U.S. territory and only a short, 5 hour plane ride away, in the U.S. Virgin Islands. The U.S. Virgin Islands are a series of islands just East of Puerto Rico. The islands in this territory are St. John, St. Thomas, and St. Croix. I have traveled to both St. Thomas and St. John, and I can speak from experience and say that they both were unforgettable trips definitely worth taking.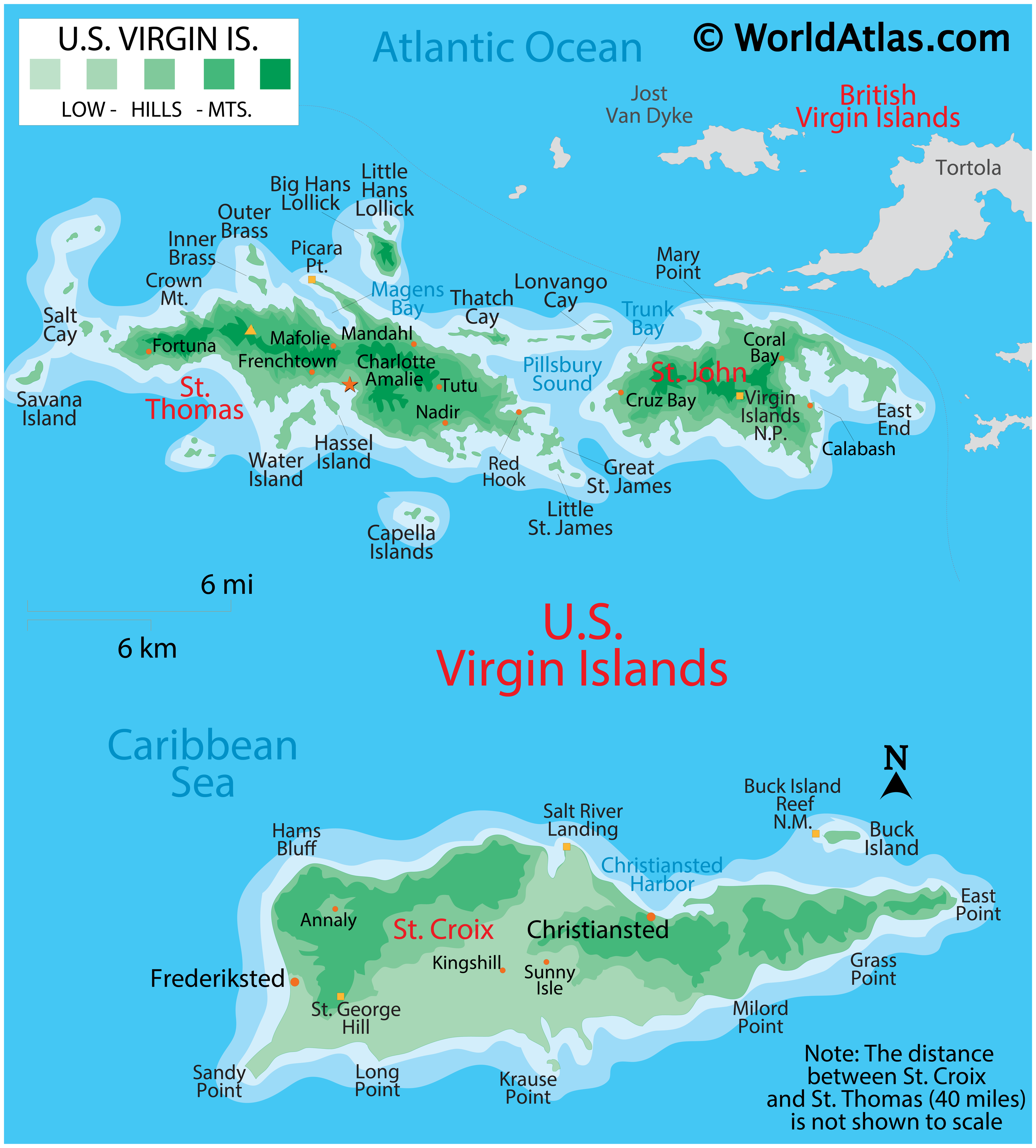 There are lots of different lodging options when staying in the U.S. Virgin Islands. You could stay in a beautiful resort, with private beaches, pools, and a glamorous suite with a view. You could also stay in a vacation rental, with a short walk to the beach, total safety and privacy, and plenty of space. These different hotels and vacation rentals also come with a range of prices to accommodate you and your financial needs. As you can see, the US Virgin Islands offer several different lodging options, but wherever you decide to stay, there will be always be a beautiful view!
The food in the U.S. Virgin Islands is amazing everywhere you go. They serve quite a lot of fish and seafood. Seafood is often served with "johnny cakes." They are made with flour, baking powder, shortening, and salt, then fried or baked and are quite popular on the island. Calallo soup is another popular dish, which is made of leaves from a daheen plant mixed with okra, local herbs and often various meats or seafoods. While, the islands have their own exotic kinds of food, they also serve a lot of American food, so don't worry, it is not hard to find a great burger!
Going to beaches is obviously the most popular thing to do when visiting the islands. There are several different kinds of beaches you can go to depending on your needs. Magen's Bay, in St. Thomas is a very family friendly beach. They offer a clean, and well managed food and beverage concession stand, clean changing rooms and stalls, lifeguards who are trained and certified in American Red Cross, and of course, stunning, crystal clear water. Salt Pond Bay, on St. John, is beautiful, with unique coral and fish, but is not recommended for families. To get to the beach, you have to take a 15 minute hike, which is downhill on the way down, but is uphill when you are leaving. There also is very little parking, so it is recommended that you get there early, or else you will have to park in the street. And while there is one bathroom, it is not cleaned on a regular basis so can be very disgusting. Beautiful beaches are what these islands are known for, so do some research prior to your trip and find the one best for you!
Besides going to beaches there are plenty of other exciting, or relaxing activities you can do! One exciting, and unforgettable activity you can look into is scuba diving. The Aqua Marine Dive Center, in St. Thomas, is an international scuba school, that also offers yacht charters to the best scuba spots around the islands. Although this would be a breath-taking experience, it is pricey, and not great for kids. Another incredible experience that I was lucky enough to experience was the Virgin Islands Ecotours, located in Charlotte Amalie, in St. Thomas. First, you will kayak through the beautiful mangroves to your snorkel spot, then you will snorkel through crystal clear waters and learn about the unique wildlife you are seeing. On my ecotour I saw an octopus, which I will remember forever! It's also okay if you have never been on a kayak before, or have never used snorkel equipment before, you will have an amazing tour guide, that will help you every step of the way!
I hope some day you have the chance to experience these incredible islands, because you will be wowed by what an amazing time you will have. If you would like to look further into this vacation spot, visit http://www.visitusvi.com/ for more information.
~Lucy